Chatting Away at the Dealerships
Instant messaging or "chatting" used to be reserved for those of us that are in front of a computer all day and didn't want to use the phone to catch up with their spouse or friend. "Chat" or "instant messaging" has been rising in popularity and adoption over the past few years and now businesses are utilizing this technology to service their customers better and to provide more timely turn around in the sales process.
Chat and instant messaging has become more mainstream and it's estimated that Social Networking website, Facebook, has 1 billion instant messages sent per day on their network. Automotive dealers have been hearing from their customers that "chat" technology is something that they desire and many auto dealers, including Grubbs Infiniti, are adding "chat" to their websites. Th...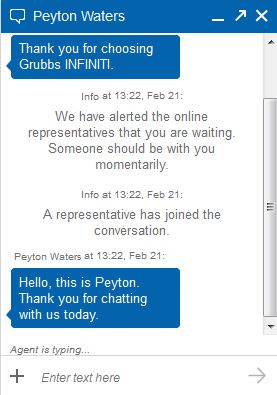 Coverage of Infiniti at the Canadian International AutoShow
Now, more than at any other moment in human history, change defines the times in which we live. Yet unlike previous moments of social upheaval, change in 2010 is defined by something different - optimism. Positive change surrounds us. In the way our elected officials act, the way companies conduct business, the way we select the products we buy. And yes, the way we choose to move. 2010 will mark the most fascinating decade in automotive history. Re-structured and re-tooled, manufacturers have plans not just to survive, but flourish. AutoShow 2010 is an integral part of those plans. Here, new content and new features will give you a chance to see, to share, to experience first-hand something you've never had the chance to experience before. Not simply the best of what is. The best of what's...