INFINITI G35 vs. Q50 Comparison, Differences
Whether you had yours in coupe or sedan-form, fun-loving V-6 power made it a thrill ride that also handled your daily drives with comfort and cutting-edge features. Sadly, it was discontinued in 2008, but the INFINITI G37 quickly took over the same role. Then, in 2013, the INFINITI G37 left us and passed that sporty torch on, where it now burns bright in every INFINITI Q50.
Attention to detail is at the heart of their sculpted exteriors and premium interiors, and sports-car-like thrills make them a beloved companion for those who take the wheel. So, how does the Q50 vs. G35 comparison play out? Let's take a look.
2008 INFINITI G35

INFINITI Q50 3.0t LUXE

Engine:

3.5 Liter V-6
3.5 Liter V-6

Drivetrain:

RWD
RWD

MPG:

EPA-estimated 17 city / 24 highway1
EPA-estimated 23 city / 30 highway1

Horsepower:

306 hp
400 hp

Length

187"
189.6"

Width:

69.8"
71.8"

Seats:

5
5

Front Legroom:

43.9"
44.5"

Back Legroom:

34.7"
35.1"

Cargo Volume:

13.5 cu. ft.
13.5 cu. ft.

Interior Benefits:

Keyless Ignition
SiriusXM® Satellite Radio
6-speaker Sound System
Climate Control
Power Driver's Seat
Auxiliary Audio Inputs

INFINITI Intelligent Key with Push Button Ignition
SiriusXM® Satellite Radio
6-speaker Sound System
Dual Zone Automatic Temperature Control System
8-way Power Driver's Seat with Adjustable Lumbar Support
2 USB Ports
2 12-volt Power Outlets
INFINITI G35 vs. INFINITI Q50: Performance Art
It speaks volumes when a vehicle that's over 13 years old is still a go-to choice for those looking to have fun behind the wheel. In the INFINITI G35 vs. Q50 comparison, you'll find that even today, the earliest INFINITI G35 models can be found on roads and racetracks across the nation. That's because it's a luxurious ride that also sticks to the sports-car-purity formula. An RWD layout combines with a chassis designed for agility, and a fast-revving V-6 engine provides the power to unleash that chassis' full potential.
How much power does it make? Well, it varied over the years, but in 2008, the 3.5-liter V-6 engine let loose up to 306 horsepower. You could also have it with an all-wheel-drive layout for added precision, but the RWD models provided endless tail-happy fun. It came with a six-speed manual or a five-speed automatic transmission. Complemented by versatile, in-control suspension, it's not hard to see how the INFINITI G35 earned its laurels.
Accessing a similar fun-loving proposition isn't a matter of choosing the INFINITI G35 or Q50, as the INFINITI Q50 builds on those laurels rather than resting on them. How so? Everything inside and out has evolved, and it's essentially a different vehicle in its construction. Yet, the fundamentals are the same: A 3.0-liter V-6 engine powers it, RWD comes standard, AWD is available, and an agile chassis underpins all models.
Today, an INFINITI Q50 makes up to 400 horsepower and uses a remarkably advanced seven-speed automatic transmission. Part of those advancements is a driver-adaptive algorithm. Essentially, it learns how you drive and adjusts the shift points to optimize performance accordingly. Innovative tricks also include Dual Flow Path® shock absorbers, front Dynamic Digital suspension, and much more. Building on the lessons learned from the INFINITI G35, the INFINITI Q50 takes all the fun to the next level.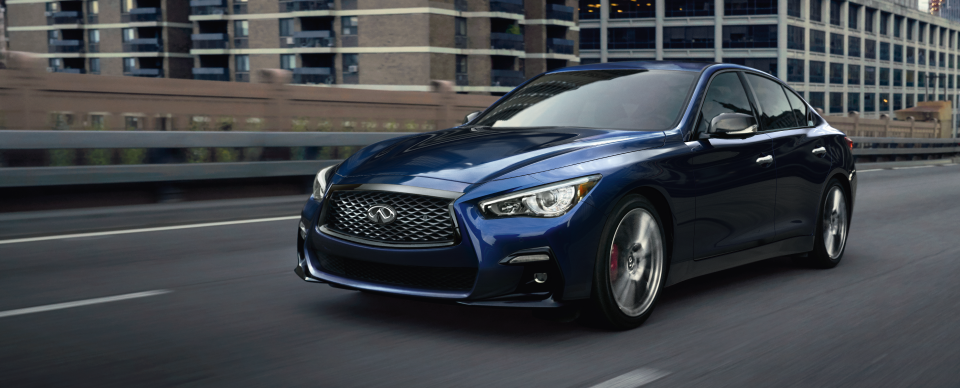 Used INFINITI Q50 vs. INFINITI G35: Sculptural Style
The first difference is that the INFINITI G35 could be yours as a coupe or a sedan. In the INFINITI lineup, the INFINITI Q50 is only a sedan. But, you can consider an INFINITI Q60 to be your coupe-version. With a used INFINITI Q60, you get a nearly-identical powertrain to a used INFINITI Q50, but the main difference is an INFINITI Q60 has two doors.
As for style, the INFINITI G35 is sleek and subtle. Clean body lines join together with sporty accents. Park one next to an INFINITI G37 and INFINITI Q50, and the family resemblance is immediately obvious. Each evolution refined the attractive style, bringing us to the aggressive, sculptural styling that a used INFINITI Q50 for sale turns heads with.
INFINITI G35 vs. Q50: Interior Benefits
Frankly, the most important evolution is the interior. The INFINITI G35 is downright spectacular for 2008, but we're no longer in 2008. That's where the INFINITI Q50 shines even brighter against its predecessor. Standard 2008 INFINITI G35 features included leather-trimmed seats, auto climate control, push-button start, satellite radio, a six-speaker sound system, power-adjustable front seats, and more.
For an INFINITI Q50, 2022 model-year standard features include leather-trimmed seats, dual-zone auto climate control, INFINITI Intelligent Key functionality, INFINITI InTouch™ dual-infotainment display, a Bose® Performance Series Audio 16-speaker sound system, eight-way power-adjustable front seats, and more. Comparing INFINITI Q50 vs. G35 standard features isn't a matter of "better," but a matter of showing this evolution at its most attractive.
INFINITI G35 vs. Q50: Find Your Favorite at Grubbs INFINITI
There is no winner; this is a demonstration of the detail-oriented, driver-focused nature of INFINITI vehicles. Whichever of the two you're looking for, we can help find it and keep it running at its fun-loving best with our high-quality INFINITI auto service. Stop by today to explore our extensive inventory, and get behind the wheel of your favorite model with a test drive.

Frequently Asked Questions
Is the INFINITI Q50 faster than the G35?
Yes, the INFINITI Q50 is significantly faster than the INFINITI G35. The INFINITI G35 made up to 306 horsepower by 2008, while the INFINITI Q50 makes up to 400 horsepower today. The 0-60 mph time of an INFINITI G35 is as low as around 5.4 seconds, while the INFINITI Q50 can, in its sportiest form, do it in approximately 4.5 seconds.
Is the INFINITI Q50 a G35?
No, but the INFINITI Q50 can be seen as the modern evolution of the INFINITI G35. It fills the same role, offering you a sports-car-like performance experience, along with a luxurious interior for comfortable daily driving. The fundamentals of their performance are the same: a powerful V-6 engine, a chassis optimized for agility, suspension that provides both comfort and cornering prowess, and an advanced transmission. You'll find all the modern amenities you love in an INFINITI Q50, while the INFINITI G35 is a cutting-edge vehicle for 2008.
Is the INFINITI G35 bigger than a Q50?
No, when you compare the INFINITI Q50 vs. G35 dimensions, the INFINITI Q50 is larger in most measurements. In particular, the INFINITI Q50 is 2.6 inches longer and 2 inches wider than an INFINITI G35 sedan, but they have the same height.
---
---
12008 INFINITI G35 6 cyl, 3.5 L, Automatic (S5) and INFINITI Q50 3.0t LUXE EPA Fuel Economy Estimates. Actual mileage may vary with driving conditions - use for comparison only.